OHIO University Undergraduate Catalog 2022-23
Patton College of Education
---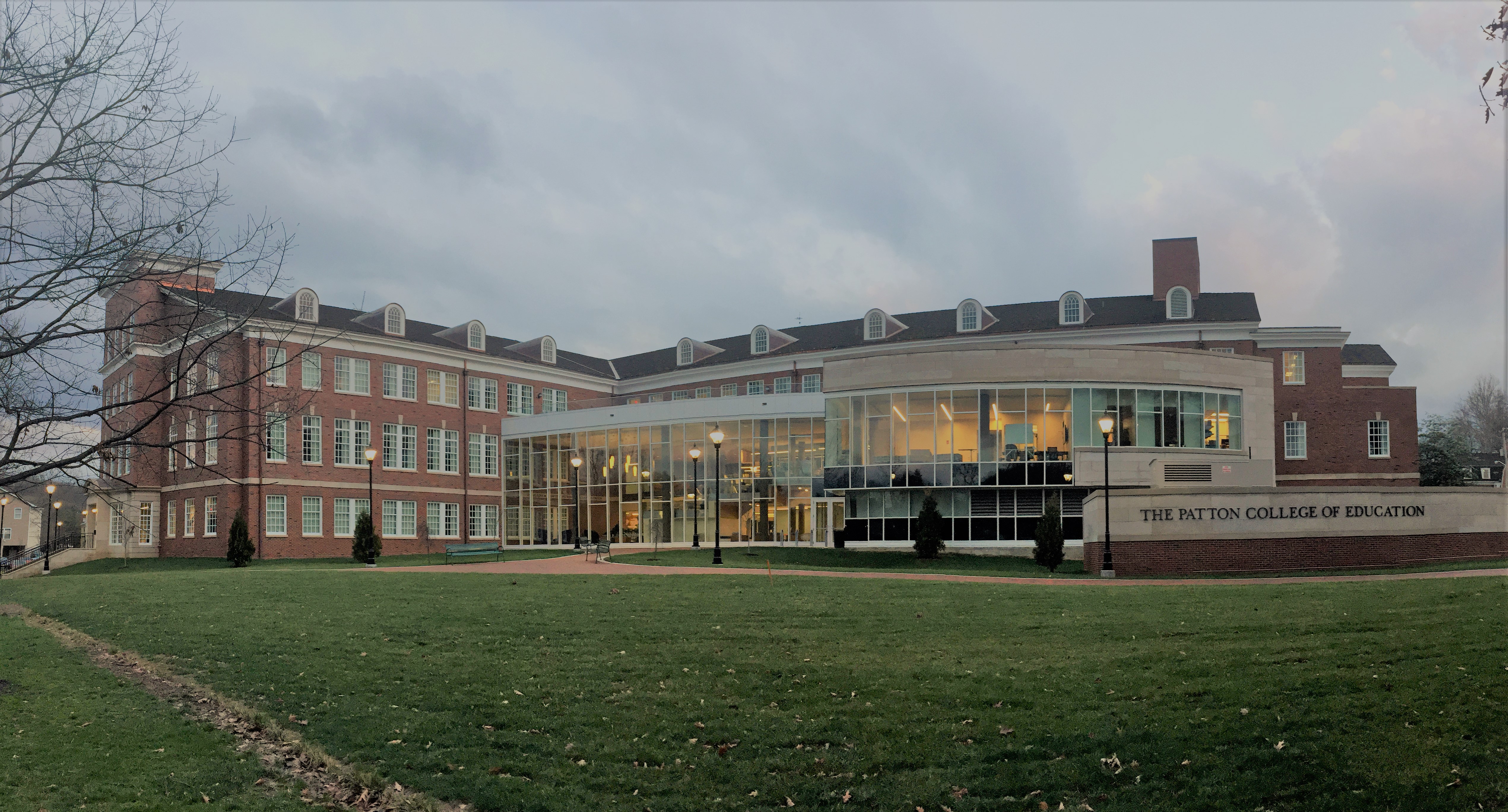 (Patton Hall)
Patton Hall
Phone: 740.593.4400
www.ohio.edu/education/

Sara Helfrich, Interim Dean
Maureen Coon, Assistant Dean
Connie Patterson, Associate Dean
Lisa Harrison, Interim Associate Dean
Mission
The Gladys W. and David H. Patton College of Education is committed to preparing individuals for professional roles in education; education-related fields; recreation and sport pedagogy; retail and fashion merchandising; restaurant, hotel, and tourism; and human services. In addition to professional preparation programs at the undergraduate level, the college provides graduate programs in a full range of professional education and education-related fields of study.
All undergraduate programs include a broad base of general education, intensive preparation in the subject matter, and a professional emphasis that integrates theory with practice.
The Patton College of Education is accredited by the North Central Association of Colleges and Schools and the Council for the Accreditation of Educator Preparation. All programs leading to licensure for teaching in Ohio are approved by the Ohio Department of Education and aligned with Ohio Standards for the Teaching Profession, developed by the Ohio Educator Standards Board.
The Patton College of Education shares in the mission of Ohio University. Its special mission is to prepare leader-educators, practitioners, and human service professionals who share our commitment to lifelong learning and serving society responsibly as change agents in meeting diverse human and social needs. Thus, programs evolve and are frequently reviewed to comply with changing standards established by the State of Ohio and accrediting agencies.
Departments
Department of Teacher Education
The mission of the Department of Teacher Education  is to prepare future educators for a variety of opportunities in the field of teacher education. Conferral of the Bachelor of Science in Education (B.S.Ed.) degree signifies successful completion of a program that enables demonstration of competence in three areas: (1) general education; (2) the knowledge, skills, and dispositions required for teaching; and (3) the subject matter in the chosen teaching field(s). In addition to the General Education requirements of the University, candidates for a teaching license must also satisfy requirements established for their specific licensure programs. Teacher Education oversees five licensure areas leading to a Bachelor of Science in Education (B.S.Ed.). At the bachelor's level the following teaching fields are offered: Early Childhood and Elementary, Middle Childhood, Adolescent to Young Adult, Intervention Specialist (Special Education), and Multi-Age Education programs. At the associate level a program in Child Development is available. All programs require extensive field experience and for those programs at the bachelor's level an intensive senior yearlong Professional Internship serves as the capstone course.
Department of Recreation, Sport Pedagogy and Consumer Sciences (RSPCS)
The Department of Recreation, Sport Pedagogy and Consumer Sciences  at Ohio University offers undergraduate Bachelor of Science degrees and related minors and certificates in the following areas:
Coaching, Health and Physical Education

Physical Activity and Sport Coaching (BS8169)
Health & Physical Education (BS8179)

Customer Service Leadership (BS6418)
Family and Consumer Sciences Education

FCSE - Teacher Education (BS6370)
FCSE - Community Leadership (BS6375)

Parks, Recreation and Leisure Studies 

Outdoor Recreation & Education (BS8176)
Recreation Management (BS8177)

Restaurant, Hotel & Tourism

Restaurant, Hotel & Tourism (BS6361)
Hospitality Management (BS6184)

Retail & Fashion Merchandising (BS6380)
Sport & Lifestyle Studies (BS5512)
 
In addition, the department offers an online Associate of Equine Studies degree. It is also home to the Physical Activity & Wellness (PAW) program, which is intended to promote health and wellness through participation in physical activity and recreational sports.
Department of Counseling and Higher Education
The Department of Counseling and Higher Education   provides an online bachelor completion program in Human Services. The online major leads to a Bachelor of Applied Human and Consumer Sciences. It is a bachelor's completion program designed for students who have completed an associate's degree.
Department of Educational Studies
The Department of Educational Studies  houses the Connavino Honors Program and provides educational technology courses for Teacher Education students, but does not offer bachelor degree programs.
---